PRESS RELEASE
Pittsburgh DevOps and Software Consultancy Bolsters Cybersecurity Practice, Adds Chief Information Security Officer.
PITTSBURGH, PA, Feb. 03, 2021 -- NextLink Labs, a Pittsburgh DevOps, custom software development, and security consultancy, today announced that Jeremy Dodson has joined the company as Chief Information Security Officer.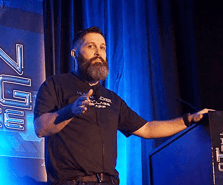 A veteran of the U.S. Air Force, Dodson's experience includes a four-year term leading a team within the Center for Executive Protection at the National Security Agency. In this role, Dodson analyzed potential nation-state threats against the sitting President and Cabinet members ahead of international travel and advised appropriate available countermeasures.
After his time in the White House, Dodson directed technical operations for the United States European Command (EUCOM), whose areas of focus include part of Europe, Russia, Greenland, and Israel.
"Our partners entrust us with securing sensitive data, so we put our customers' security and privacy at the core of everything we do. The experience Jeremy brings to the table will enable us to stay 10 steps ahead of the game and provide a whole new level of security for our clients." NextLink Labs Founder and CEO Jordan Saunders
Dodson's additional career highlights:
Performed holistic security assessments for a variety of clients, analyzing the security posture and risks to their environments.
Conducted network penetration testing and vulnerability assessments, web application testing, social engineering, firewall/IDS rule reviews and more.
Assessed and recommended remediation for multiple industrial control system environments, including national critical infrastructure and sensitive equipment.
"I think what I'm most excited about is how NextLink's vision and commitment securing partner assets aligns with my own experiences. I'm passionate about helping companies and clients make sure their organizational posture is safe and data is protected, all while guiding them through compliance goals." NextLink Labs Chief Information Security Officer Jeremy Dodson
The strategic hire strengthens NextLink Labs world-class security services. Dodson will lead security initiatives at NextLink Labs, which will include holistic security assessments, testing, and enhancements to solve modern security challenges.
About NextLink Labs
Founded in 2019, NextLink Labs is a Pittsburgh-based DevOps, custom software development and cybersecurity company committed to helping companies achieve lasting success through adoption and use of best-in-class technology. NextLink Labs strives to be the link that connects the world's best technologies, and companies, helping everyone reach their full potential.
For more information or to schedule a consultation, contact us.